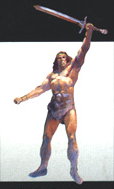 Sternblade (スタンブレード Sutanburēdo) is one of the four playable characters from Golden Axe: The Revenge of Death Adder. He is a young man with a suppressed combative spirit who uses a sword to defeat his enemies. He has balanced strength and speed, and his dashing attack is the most effective in the game.
His magic requires 9 Magic Pots to be used and creates a wave of flames that deals great damage. Weaker enemies are incinerated and carried by the flames.
Ad blocker interference detected!
Wikia is a free-to-use site that makes money from advertising. We have a modified experience for viewers using ad blockers

Wikia is not accessible if you've made further modifications. Remove the custom ad blocker rule(s) and the page will load as expected.