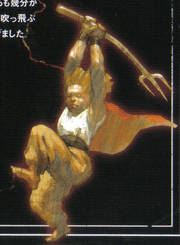 Little Trix (リトル・トリックス Ritoru Torikkusu) is one of the four playable characters from Golden Axe: The Revenge of Death Adder. He is a small man that uses a three-pronged fork as weapon. He is the most agile of the four heroes, but the weakest. Despite his frail appearance, his speed and small size makes him hard to be hit, helping him to destroy the opposing forces with a series of quick attacks.
His magic requires 4 Magic Pots and summons a tree for each player present. The tree(s) disappears shortly after and leaves behind apples that can be eaten to fully recover the health.
Ad blocker interference detected!
Wikia is a free-to-use site that makes money from advertising. We have a modified experience for viewers using ad blockers

Wikia is not accessible if you've made further modifications. Remove the custom ad blocker rule(s) and the page will load as expected.