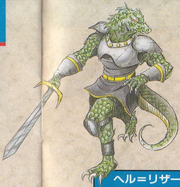 Hell Lizard (ヘル=リザード Heru=Rizādo) is an enemy from Golden Axe II, a humanoid reptile monster with the whole body covered with a hard skin. Hell Lizards are physically stronger than humans, and their tail has great destructive power.
Other media
Edit
Hell Lizards appeared in Sonic the Comic, where they are called Lizard Men. They work for Sorcerer Blackspell, and he has a high-ranking Lizard Woman named Rigia working for him. Most or all of his Lizard Men were killed by Ax Battler, Gilius Thunderhead and Tyris Flare in combat, and Rigia was locked and abandoned in the catacombs of Blackspell's Citadel of Dead Souls.
Ad blocker interference detected!
Wikia is a free-to-use site that makes money from advertising. We have a modified experience for viewers using ad blockers

Wikia is not accessible if you've made further modifications. Remove the custom ad blocker rule(s) and the page will load as expected.