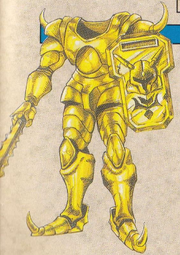 Death Armor (デスアーマー) is a powerful enemy from Golden Axe II, a suit of armor with head that moves on its own. Death Armor is slow and cannot run or dash, but as an armor, it is very resistant. Its large sword gives Death Armor a good range and damage, and it can do a shield bash at close range. Death Armors appear in red, bronze, silver and golden variations, the golden one appearing in Dark Guld's throne room as the penultimate boss.
Other media
Edit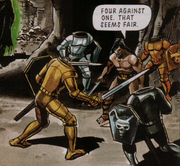 In Sonic the Comic, a revived Dark Guld ordered four Death Armors to restrain Ax Battler so he can be used as the sacrifice for sorcerer Blackspell's spell. When Gilius and Tyris arrive to save him, they defeat the armors.
Ad blocker interference detected!
Wikia is a free-to-use site that makes money from advertising. We have a modified experience for viewers using ad blockers

Wikia is not accessible if you've made further modifications. Remove the custom ad blocker rule(s) and the page will load as expected.