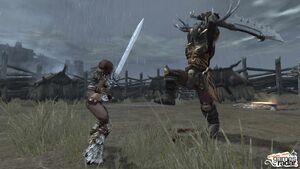 Axirian Blade is the default weapon of Tyris Flare in Golden Axe: Beast Rider. This is the common sword of the warriors in the Island of Axir.
How to unlock
Edit
This is the starting sword and does not have any requirements to be obtained.
Unlike other weapons in the game, the Axirian Blade does not give any additional bonuses.
Ad blocker interference detected!
Wikia is a free-to-use site that makes money from advertising. We have a modified experience for viewers using ad blockers

Wikia is not accessible if you've made further modifications. Remove the custom ad blocker rule(s) and the page will load as expected.